Pasadena Tour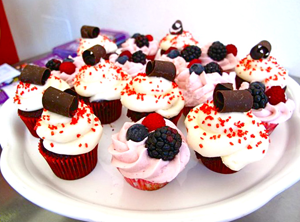 Historic Old Pasadena
On the Old Pasadena Foody Field Trip, explore one of Southern California's most popular tourist attractions while sampling a wide range of delectable eats at some of the most diverse restaurants in the San Gabriel Valley, ranging from Peruvian to Korean, Vietnamese to Argentinean. Our guests will learn the rich history that makes Old Pasadena a National Register Historic District and one of Los Angeles's premier shopping and entertainment destinations for locals and out-of-towners alike. The three and a half hour guided tour will take guests to six tasting locations, introducing their palette to international flavors from around the world while being given a behind the scenes look at the various hidden independent local establishments that makes this neighborhood unique. Sign up for the Old Pasadena Field Trip and experience the City of Roses through food! A culinary adventure awaits…
Every Saturday & Sunday at 9:45 a.m.
Pasadena Group Tour Ticket
$65
What's Included:
A reusable and ecofriendly Foody Field Trips Tote Bag
Your very own local tour guide
Over 20 tastings at 6 different locations including:

Start time: 9:45 a.m., 3 hour 30 minute walking tour
Famous freshly baked, fluffy and oh so buttery Mocha Bun from Korean bakery, PappaRich.
Fascinating tea demonstration and mini traditional afternoon tea sampler of tea and British pastries at Chado Tea Room.
Healthy and delicious vegan cuisine of Golden Crispy Rolls, Spring Rolls and a surprise signature dish with a special twist just for us at Green Earth Vegan Cuisine.
Authentic fragrant Argentinean wines and savory appetizers from 1810 Argentinean Restaurant.
World renowned velvety and beautifully frosted decadent cupcakes from Violet's Cakes.
Plus several more tastings that will blow your taste buds away!
When: Saturdays& Sundays
Time: 9:45AM to 1:30PM
Length: 3 hour 30 minute walking tour
# of Stops: 6
Price: $65/person (all food and beverages included in price)
Tours are rain or shine!
We believe in the notion that the field trip must go on! Tours will be held rain or shine unless extreme acts of nature prevent us from doing so. Participants are encouraged to dress appropriately for the day's weather conditions so be sure to bring an umbrella if necessary.
Bring your cameras and comfy shoes!
During the 3.5 hour tour, we will be walking roughly 1.5 miles with ample stops to rest. Bring a camera to document your field trip and food adventure!
Trip Advisor
Visit Trip Advisor

Yelp
Special Events
Like us on Facebook, Follow us on Twitter or join our newsletter if you'd like to be notified of future exclusive events that revolve around LA's premiere dining scene, its underground food culture and our own personal favorites! We'll keep you up to date on all of the exciting food news going on in Los Angeles. From restaurant openings to special deals to our own favorite places to nom, we are your source for the most delicious information in town!