Culver City Tour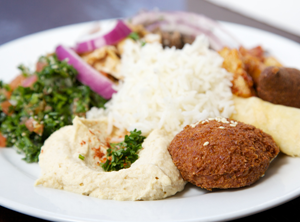 Downtown Culver City
On the Culver City Foody Field Trip, explore the adequately dubbed "Heart of Screenland", through its food and drink. The set of 60% of Hollywood's movies and TV shows, Downtown Culver City is rich in Hollywood history. It is home to movie studio lots and has been featured in countless films and TV shows, including the beloved "The Wizard of Oz". Over the years it has evolved to become an artsy avant garde neighborhood filled with fresh and innovative young chefs and restaurateurs that have earned celebrity status, in their own right, for their creative and delicious dishes. While visiting this local hot spot, you will sample a wide range of delectable eats ranging from Elevated Gastropub Fare to Authentic Argentinean, Nouveau American to Soul Food.
The three and a half hour guided tour will take guests to five tasting locations, introducing their palate to delicious flavors from great restaurants. So join us as we explore Culver City, one of Los Angeles's best kept secrets, on our latest Foody Field Trip!
Every Saturday & Sunday at 2:00 p.m.
Culver City Group Tour Ticket
$65
What's Included:
A reusable and ecofriendly Foody Field Trips Tote Bag
Your very own local tour guide
Over 20 tastings at 5 different locations including:

Start Time: 2:00 p.m., 3 hour walking tour
Healthy and delicious vegan drinks, burgers, salads and desserts from the pioneer of vegan cuisine, Native Foods.
Award winning Nouveau American savory appetizers, including Truffle Mac n Cheese, from The Culver Hotel.
Craft beer tasting and elevated appetizers from the first California state-approved establishment to offer patrons the ability to pour their own beer at their own table tap booths! City Tavern
All American comfort food at Honey's Kettle.
Plus several more tastings that will blow your taste buds away!
When: Saturdays& Sundays
Time: 2:00 PM to 5:00 PM
Length: 3 hour walking tour
# of Stops: 5
Price: $65/person (all food and beverages included in price)
Tours are rain or shine!
We believe in the notion that the field trip must go on! Tours will be held rain or shine unless extreme acts of nature prevent us from doing so. Participants are encouraged to dress appropriately for the day's weather conditions so be sure to bring an umbrella if necessary.
Bring your cameras and comfy shoes!
During the 3 hour tour, we will be walking roughly 1.5 miles with ample stops to rest. Bring a camera to document your field trip and food adventure!
Trip Advisor
Visit Trip Advisor

Yelp
Special Events
Like us on Facebook, Follow us on Twitter or join our newsletter if you'd like to be notified of future exclusive events that revolve around LA's premiere dining scene, its underground food culture and our own personal favorites! We'll keep you up to date on all of the exciting food news going on in Los Angeles. From restaurant openings to special deals to our own favorite places to nom, we are your source for the most delicious information in town!